When I said I was done writing about my stroke I really meant IT. You and I were bored by the topic, and it was time to move on—but the stroke was not done with me!
Just like many natural events there are aftereffects to a stroke, and just like most aftereffects, they aren't any fun. Just short of 18 months after the stroke I noticed some weakening in my right leg that was making it difficult to hold the leg straight, and occasionally made walking tricky, and even dangerous.
A few times the right leg started to give out and I almost fell . . . and then it did give out and I did fall. I didn't get hurt, but I had been standing while using the toilet and wound up looking like the proverbial drunk hugging the porcelain altar. Nancy and I couldn't get me up but fortunately son-in-law Chris was home, and our combined efforts got me up.
The problem was I did not have the strength in the right leg I needed to walk.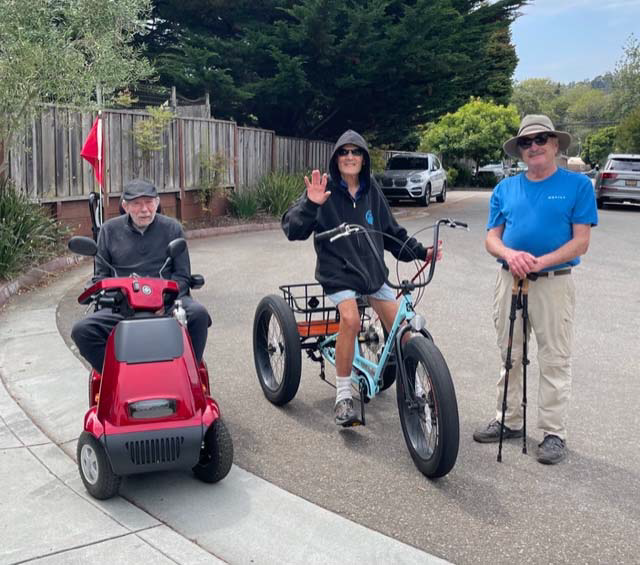 Nancy and Chris got me into my La-Z-Boy, gave me a cup of tea and Nancy took off to rent the wheelchair I would need to get around the house. There was no getting much further, but I was determined that this state of affairs would not last.
Nancy was more realistic, saying, "You will likely need a wheelchair for much of the time for the rest of your life." While I didn't want to agree, here I am at my desk sitting in the nice new wheelchair that we bought.
I am still unable to walk, although I did some walking in the Cabrillo PT class, and I also did some encouraging work on exercises with Sarah yesterday. There is work underway to get more structured individual physical therapy, but it will take some time.
I saw an orthopedic doctor and he said the problem was related to a twist in my right leg that originates in my hip that was made worse by the stroke and there was nothing for it except physical therapy.
So, like everything else related to the stroke it's up to me. It's clearly a step backwards (no pun intended, hah!) and it's going to be tough to keep my spirits up, but I must keep going! It helps so much that I have friends who enjoy being out and about with me!
Well, I'll just do it!