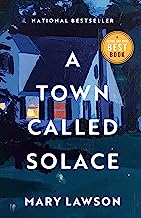 Booker Prize books are always interesting for their quality of writing and for the structure of the stories they tell. A Town Called Solace was long listed for the 2021 Booker and it carries those qualities.
So, I chose it to read for this month's Aptos Mens' Book Club Selection and, while I'm not sorry I did, I wasn't thrilled with the book. The writing is terrific, not flowery, just good words into sentences.
And the structure is clever and keeps you going, which is a bit of a surprise as it mostly involves the development of one person, the protagonist. The remainder is taken up describing the town and the four other people who give him, well, Solace.
But . . .
At the end it's not much of a book. It's a story of a divorced man in his forties trying to find himself amidst the chaos is his life.  If I'd known what the conclusion was about, I would have picked another book.
But, gee, it is good writing.